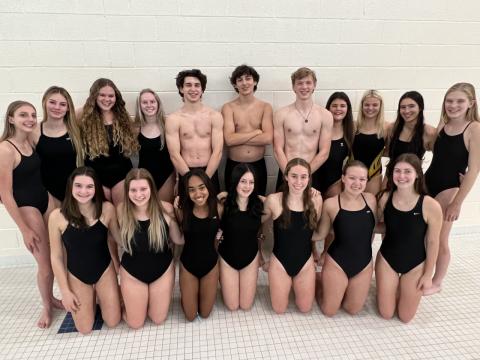 The John Carroll swim team enjoyed a successful first half of their 2021-22 season and appear poised to make some noise coming out of the winter break.
Head coach Jessica Jelen-Joy, in her second year at the helm of the program is optimistic for positive results on the horizon. "The team is excited to be back into a full season after a short 5-week season last winter," said Jelen-Joy. "I am excited to see the successes of our team throughout this year and to see the growth of our young swimmers as we go into the second half of the season."
The Patriots have already had some fantastic standout performances from the veterans of the squad as Mackenzie Hopkins recorded a time of 1:33.33 in the 100m butterfly and Victoria Novak touched in at 5:45.01 in the 500 m freestyle. On the men's side, Lucas Lakatta appears ready to breakout as a household name as the young freshman has already clocked in a 1:00.67 100m butterfly. 
John Carroll enjoyed an exciting season opening victory against Palotti, winning the meet 132-130 thanks in large part to a dominating effort on the women's side who overwhelmed 114-52. This was followed up by a tough loss to St. Mary's 157-85 and a hard-fought meet with the Patriots falling to Catholic 93-75 and Archbishop Curley 96-20.
The Patriots return home on January 11 as they host Beth Tfloh before a quick turnaround on January 15 in a meet featuring The Key School and Annapolis Area Christian. John Carroll will get a bit of a break before hosting The Severn School and St. Timothys on February 1. The regular season finale will allow for very little rest as they take on St. Peter & Pauls on February 3. 
2020-21 was an irregular year for most athletic programs and the John Carroll swim team was no exception as they only competed in three matches, finishing with a 2-1 record for the year. With a much more normalized schedule in place for the current season, Jelen-Joy feels like her swimmers are in a great position to continue their improvement. "We have a lot of talent on our team, but I am just really impressed with the dedication of our student-athletes. There is a strong desire throughout the squad to keep improving and I honestly think our best swimming is yet to come."
The Interscholastic Athletic Association of Maryland (IAAM) championships for the women will take place on Sunday, February 6 while the Maryland Interscholastic Athletic Association (MIAA) finals for the men will be on Wednesday February 9.