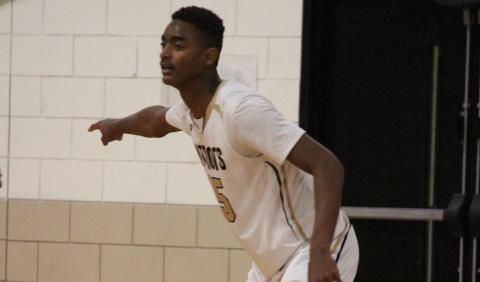 The Patriots hosted the Cougars of Mt. Carmel last night hoping to avenge a Dec. 12th road loss. John Carroll opened the game with an 8-2 run and continued to hold the lead through the first quarter (16-12) behind a tough defensive effort. The 2nd quarter was a tight back-and-forth battle, but the Patriots ended on 4-0 run to take a 28-20 lead into halftime.
John Carroll pushed the lead to 11 early in the 3rd quarter, but the Cougars would not go away and they went into the 4th quarter trailing by only 5, 43-38. The Cougars put together a run early in the 4th quarter that was ended by a key Jaiden Jakubowski corner 3 to push the lead back to 7 with 5 minutes remaining. The Patriots held a 9-point lead at the two-minute mark, but the game was not over yet. With 1:32 remaining and John Carroll holding a 7-point lead, rim protector Cesar Tchilombo fouled out. Mt. Carmel turned up the pressure and put together 6-1 run to cut the lead to 2 (57-55) with 30 seconds remaining. But, Jalen Bryant was clutch from the free throw line down the stretch (94% on the night) and the Patriots were able to hold on for a 63-58 win, giving head coach Seth Goldberg his 200th career victory.
Cesar Tchilombo finished with 18 rebounds and 6 blocked shots. Jalen Bryant had 6 rebounds and 3 assists. Tyson Commander grabbed 10 rebounds and TJ Vaughn dished out 6 assists. Roman Hemby had 6 rebounds and 2 steals.
The Patriots travel to Annapolis on Friday to take on AACS at 7:15 pm.