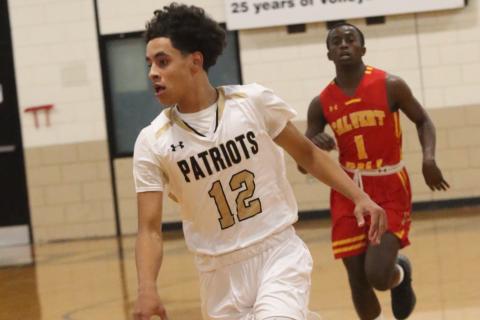 The Patriots got off to a great start against Archbishop Spalding on Monday night, jumping out to an early 4-point lead. The Cavaliers fought back and cut the lead to 2 by the end of the 1st quarter. Spalding was able to take that momentum into the 2nd quarter, scoring 20 points in the period, giving them a 6-point lead heading into halftime.
The Patriots did not get frustrated when things were not going their way, but stayed tough and together through whatever Spalding threw at them. The Cavaliers still held a 5-point lead going into the 4th quarter. Late in the fourth quarter, the Patriots were still down by 2. As the clock ticked down, Jaiden Jakubowski drove through the middle of the lane and kicked out to Tyson Commander in the corner who knocked down the final go-ahead 3 with 26 seconds left on the clock to give John Carroll a one-point lead. The Patriots were able to hold on thanks to a couple of defensive stops down the stretch. Final score John Carroll 53 - Spalding 52.
Congratulations on the first win of the year!
John Carroll was led with an outstanding defensive performance by Cesar Tchilombo who blocked 8 shots and grabbed 10 rebounds. Tyson Commander had 5 rebounds, 4 deflections, and 2 steals. And Jaiden Jakubowski dove on the floor and took a charge for his team. The Patriots will look to build on their momentum when they travel to Mt. Carmel on Wednesday to take on the Cougars. Game time is at 7.