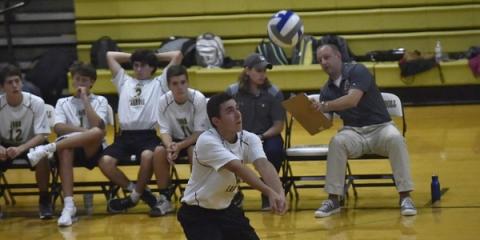 Looking to build on a 2017 season that was focused on growth and learning, the 2018 Patriots are excited about the opportunity to field a competitive team in the always-challenging MIAA A Conference.  While the 2017 squad had only one senior player, the 2018 Patriots will be led by three returning Senior starters: Nico Santoro (All-MIAA/All-County 1st Team), setter Matt Smidt, and Jacob Smidt.  They are joined by an experienced group of Juniors that possess a diverse set of offensive skills to go along with some unique defensive abilities.   
On the JV level, the coaching staff is very excited about a large and promising group of athletic freshman who are looking to develop into a team that will return JC to its former level of volleyball glory.   
Adding to the stability of the boys volleyball program, the 2017 coaching staff of Don Dugan, Tucker Snow, and Matt Blair will be returning for its second season together.