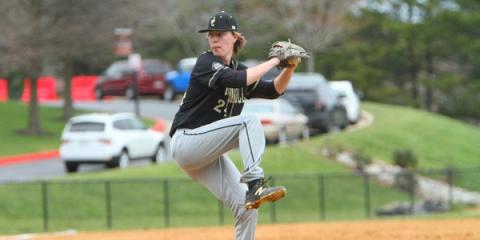 Needing a win to reach the MIAA A Conference baseball post-season tournament, John Carroll got a clutch pitching performance from Nick Collier, who tossed a four-hit, complete-game shutout at visiting Loyola Blakefield as the Patriots prevailed, 1-0.

Collier struck out eight batters, including the final batter of the game. His team gave him all the offense he would need in the very first inning when Grant Astle, who opened the inning with a walk, scored on an infield error on a ball struck by Alex Marlow. Earlier, Astle advanced from first to third on a single by Ryan Archibald.

The victory allowed the Patriots (10-11 overall) to finish 9-9 in the league where they tied Loyola (9-13 overall, 9-9) for fourth-place. Since the teams split this year, it came down to Loyola's tie-break advantage earned by a victory over second-seeded Archbishop Spalding.

This means, the Patriots and Dons will battle again on Friday, at Loyola, in the opening round of the double-elimination tournament.