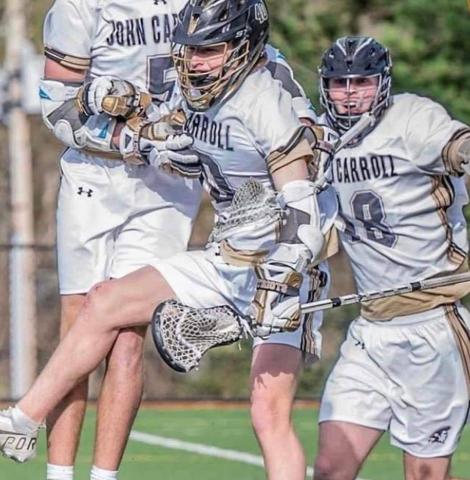 JOHN CARROLL 8, CALVERT HALL 7
Posted by VSN Staff | Apr 19, 2022 | https://varsitysportsnetwork.com/you-never-know-in-the-miaa-a/
The Patriots picked up perhaps the biggest win in program history, and certainly the biggest since they entered the MIAA A Conference when they defeated Calvert Hall, 8-7, on Tuesday.
Calvert Hall (7-4, 1-3) led 2-0 early and 3-2 at the half, but never got on the roll that may have been expected. The Patriot defense frustrated them at every turn and with the game tied, 7-7, entering the final minute, the John Carroll (5-6, 2-4) defense forced a turnover to give the Patriots the ball and, with just five seconds to play, senior Cameron Carrigan scored the game-winner.
The Patriots came out of a timeout with 29 seconds to play and ran their offense. As the clock moved inside of 10 seconds, senior Max Snellenburg dished the ball inside to Carrigan, who made one dodge before dumping the ball in the top right corner of the cage.
"The key for us early was handling their ride," said John Carroll head coach Don Reynolds.  "Calvert Hall is the hardest riding team in the league.  Their attack takes great pride in the riding game, and we did not handle it well last year. Coach McQuarrie (Defensive Coordinator) did an outstanding job preparing our defense tonight."
Carrigan finished with two goals and Travis Smith had three. In addition, Snellenburg, Athan Barmer, and Frank Smithmyer had one each. Another huge key was the play of goalkeeper Alex Stewart, who finished with 20 saves.
"We gambled a little tonight and wanted to prevent shots inside the paint," added Reynolds.  "We were willing to give up some outside looks and tried not to over-rotate.  Alex made a lot of big saves and as the game progressed and our clearing continued to improve and hold up."
Reynolds also singled out junior defenseman Josh Shrader for the work he did against Calvert Hall star Truitt Sunderland.