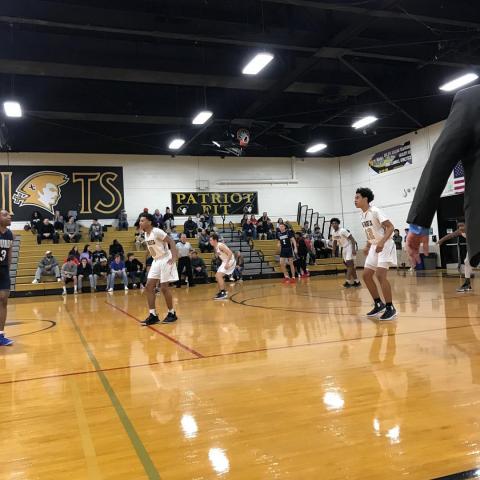 John Carroll played their first home game coming off of holiday break Friday night. The Gilman Greyhounds travelled to Bel Air to take on the Patriots. John Carroll started the game well, jumping out to an early 4-point lead. The Greyhounds stormed back and were able to take a 10-point lead in the middle of the 1st quarter. The Patriots used great ball movement to cut the lead to just 2 going into the 2nd quarter. From there, the two teams continued to trade the lead for the rest of the first half. The Greyhounds went into halftime with a 2-point lead.
Gilman came out of the half with a strong third quarter. They built their lead back up to 10 going into the 4th quarter. The Patriots continued to play for each other and cut the Greyhound's lead to just 1 with 4 minutes to play in the 4th quarter, but they were never able to regain the lead, eventually losing 73 to 68.
Cesar Tchilombo led the team on the glass with 10 rebounds and also controlled the paint with 5 blocks. Tyson Commander had a great defensive game with 5 steals, 4 rebounds, and 1 charge. TJ Vaughn affected the game on both ends with 2 assists and 3 steals. Jalen Bryant and James Ziegler also had strong all-around performances. The Patriots take the court again this Wednesday as they visit Calvert Hall. Game time is at 7 PM.