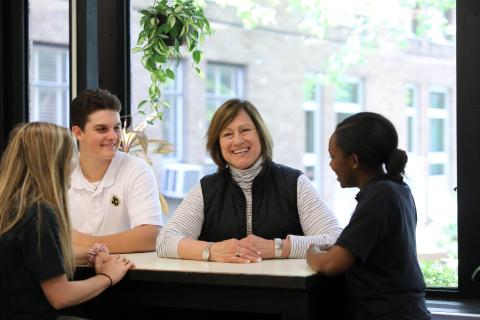 Long-time John Carroll faculty member and coach Mrs. Tess Gauthier has agreed to serve interim Head Coach of the John Carroll Field Hockey program for the Fall 2022 season. Sammi Edwards '18 will be the Varsity Assistant Coach and Kate Bradley will return as the Head JV Coach. 

Mrs. Gauthier has an extensive field hockey background and history as both a player and coach. A John Carroll field hockey and lacrosse alum,  after graduating from JC she attended the University of Maryland, where she played both sports while pursuing her bachelor's degree.

Mrs. Gauthier ultimately returned to her alma mater where she has been a valued faculty member for 26 years. In addition to teaching, from 1990 - 2008 she served as Head Coach of JC's competitive Field Hockey program, leading teams that won multiple championships during that time. Mrs. Gauthier cares deeply about JC's Field Hockey program and players, and looks forward to the opportunity to shepherd both through this coaching transition.

Coach Gauthier has a strong team working alongside her, including Sammi Edwards '18, who will serve as Assistant Coach for the Varsity Field Hockey team. Sammi played field hockey at JC and was named captain her senior year. She took her field hockey career to St. Mary's College of Maryland, where she graduated in 2022. Sammi was named a captain her senior year and was a member of the NFHCA Division III National Academic Squad. Sammi brings great energy and a ton of knowledge to the program, and will be a wonderful addition.