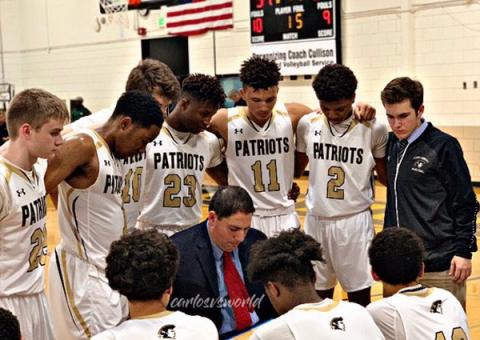 John Carroll wrapped up their opening week of the season hosting the Calvert Hall Cardinals on Friday for their home opener. The Patriot student section was packed and rocking from the opening tip to the final buzzer. John Carroll came out and played a great first quarter holding the Cardinal's top scorer to only two points and leading 13-12. In the 2nd quarter, the Patriots continued their staunch defense and great ball movement to take a 5-point lead into halftime. 
Calvert Hall made a more concerted effort to get their key players the ball in the 2nd half, but the Patriots continued to make every look tough for the Cardinals and were able to maintain a 5-point margin going into the 4th quarter. The Cardinals continued to fight and started to find a rhythm in 4th quarter. They knocked down two free throws to tie the game with just ten seconds remaining in regulation. The Patriots pushed the ball up the floor and got off a good looking shot to win, but it glanced off the rim and the game headed to overtime.
In overtime, Calvert Hall took a 4-point lead into the final minute, until the Patriots hit a 3 to cut it to one with 5 seconds remaining. After Calvert Hall missed their free throws, the Patriots had one more shot to win the game, but it did not fall and the Patriots came up short in OT, 59-58.
Cesar Tchilombo led the Patriots on the glass with 9 rebounds, also recording 3 deflections. TJ Vaughn dove on the floor twice, took a charge, had 3 deflections, and led the team with 7 assists. Tyson Commander was the leader in deflections with 4, also adding 2 assists. Bryce Meads had 3 assists. John Carroll takes the court again this Wednesday night at home vs. McDonogh. Game starts at 6 pm. Come out and support your Patriots!