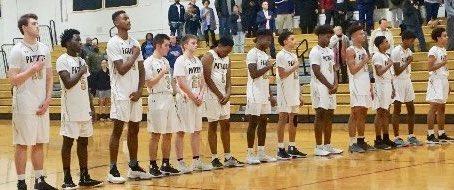 John Carroll went on the road Wednesday as they played their 2nd game of the week at Mt. Carmel. The Patriots got off to a slow start and were down by 5 early in the first quarter. They were, however, able to fight their way back to cut the deficit to 1 by the end of the first quarter. The Cougars came out and responded with a strong 2nd quarter and they were able to build a 14-point lead going into halftime. 
 Mt. Carmel came out of the half and built there lead up to 24 in the 3rd quarter. After regaining their composure and remembering the priorities and values of the program, John Carroll began to play with amazing energy and togetherness late in the 3rd quarter led by junior guard James Ziegler and junior big man Mike Clay. John Carroll went into the 4th quarter down by 17 and carrying some momentum. Once reestablished, the Patriots' hustle and unselfishness continued to be a constant regardless of the score. John Carroll eventually cut the lead to 7 off a great team possession capped off with a Foster Anderson 3. After a big stop by the Patriots, Anderson was able to cut the lead to 6 knocking down 1 of 2 from the free throw line. John Carroll forced another turnover and regained possession with a little under two minutes to play. They moved the ball and got a great look from 3 that would've cut the deficit to one possession, but the shot barely missed off the back rim. The Cougars were able to hold on to their lead from the free throw line for the remainder of the game and hold off the Patriot come back, winning 64-55.
 Bryce Meads dominated the boards with 8 defensive rebounds and 1 offensive rebound. James Ziegler brought great energy off the bench with 3 deflections and 2 assists. Mike Clay showed his toughness by taking 2 charges, diving on the floor once, and grabbing 6 rebounds including 2 offensive rebounds. The Patriots are back at home this Friday to take on AACS. Game time is 7pm. Come out and support your Patriots!