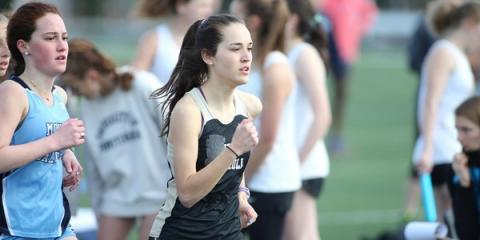 The JC Women's Track-n-Field team finished this weekend's IAAM Champioship meet in 6th place in the A conference. Below are the top individual finishers.
Ashlee Kothenbeutel was the individual champion in the 100m hurdles and 2nd in the 300m hurdles. She also finished 5th in the high jump and teamed up with Holly Dixon, Valerie Friar, and Nia Christopher for 5th in the 4x100.
Chika Chuku was on her way to 2nd in the 100m hurdles but took a nasty fall. She had to drop out of the 100 and the 4x100, but came back later to win the 300m hurdles for the 2nd year in a row (and the 5th consecutive year a JC girl won that event).
Laura Amrhein got 6th in the 3200 and 8th in the 1600.
Nia Christopher got a 7th in the 100, 8th in the 200, and teamed with Cam Barrow, Valerie Friar, and Faith Hess to get 6th in the 4x200.
Rosemary Gillam got 6th in the high jump and teamed with Isabel Marhoun, Valerie Friar, and Mary Sutton to get 6th in the 4x400.
Anna Kotula took 6th in the pole vault.