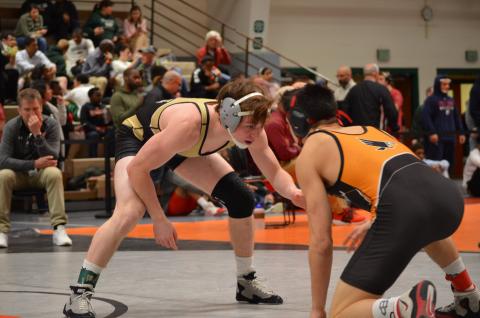 The John Carroll Wrestling team competed in the Maryland Independent School (MIS) Wrestling Tournament at McDonogh this weekend. This year the tournament housed both JV and Varsity competition. In the JV Division Dominic Comello finished 4th in the 152lb weight class and Dylan Cox finished 3rd.
In the Varsity Division John Carroll had only 6 wrestlers competing out of the 14 weight class tournament.  John Carroll finished 9th overall out of 32 teams with 5 place winners out of our 6 wrestlers. John Carroll also had 4 of our 6 wrestlers qualify for the National Preps next week at Lehigh University.  The results are below.
106 lb- Julianne Moccia Placed 6th and became the first female wrestler in the history of the MIS Wrestling Tournament to qualify for the Boys National Preps. Julianne will forego the Boys National Preps and wrestle in the first ever Girls National Preps also held at Lehigh Universty. 
113 lb- Ian Moccia placed 8th
132 lb- Cole Jones placed 4th and qualified for the National Preps.
138 lb- Matt Mitrega placed 5th and qualified for the National Preps
170 lb- CJ Polesovsky placed 2nd and qualified for the National Preps
Joining Julianne in the Girls National Preps will be Gia Checa Roques who will compete at 120 lb weight class.