Coaching Staff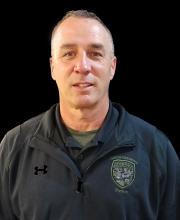 BIO
Keith Runk assumes the role of Head Wrestling Coach for the 2019-2020 season after serving as an assistant coach in the program since 2007.
Coach Runk began wrestling at a young age with the Maryland Junior Wrestling League and also wrestled at Towson High School. As an adult, he has competed in the World Police and Fire Games in Spain, Australia, the U.S. and Canada. He is a four-time medalist in the World Games, including a gold medal win in freestyle wrestling.  In 2016, he was inducted into the Maryland Chapter of the National Wrestling Hall of Fame, under the category of "Outstanding American." 

Outside of wrestling, Coach Runk is also a lacrosse official for both high school and college games, and has officiated numerous NCAA playoff games as well as a Division III Championship game. He currently resides in Harford County with his wife, Merribeth Morisi Runk '91, and is the proud father of three John Carroll graduates: Shannon '09, Allison '12 and Keith '14.