Upcoming Schedule
There is currently no schedule available.
Coaching Staff
Assistant Athletics Director; Head Girls Lacrosse Coach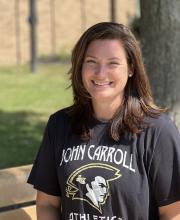 BIO
A graduate of Notre Dame Prep, Lycoming College (B.A. Corporate Communications) and the College of Notre Dame MD (M.A. Contemporary Communications), Coach Seifert  has extensive athletics leadership experience including head coach, advisory board member, marketing director and commissioner, spanning the levels of youth, middle school, high school and college.

A US Lacrosse Level 3 Certified Coach, Coach Seifert has mentored young women on the lacrosse field for more than 15 years, most recently as a head coach and marketing director for the North East Maryland Select (NEMS) Lacrosse Club as well as at Harford Technical High School.
Varsity Roster
Andrychowski, Sophie #21
10
Baikauskas, Corinne #28
11
JV Roster
Andrychowski, Sophie #3
10
Baikauskas, Corinne #7
11
Bartenfelder, Alexis #16
10
Bartenfelder, Brooke #1
9
Castellano, Mariangela #15
10
Dobrzykowski, Isabella #14
9
Patterson, Margaret #43
10