Upcoming Schedule
There is currently no schedule available.
Coaching Staff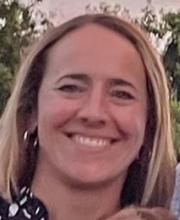 BIO
Head Coach Kaitlin McKeon Loftus brings more than 15 years of tennis instruction to John Carroll, as well as 10 years of teaching experience. A former Division I tennis player at Loyola University, she still holds the school record for the most singles wins in one season (28) and was named MVP her senior year. She also spent 11 years working as a tennis pro in Connecticut in Maryland. Three years ago, she founded Kaitlin's Greyhound Tennis, and currently provides instruction to more than 100 people each week.
Coach Loftus is also a leader in the fitness industry, where she has worked as an Under Armour Brand Ambassador and been recognized by the Mayor of Baltimore and on the Today Show for her efforts in Baltimore City Schools, where she worked for 10 years as an educator.
At John Carroll, she will be working closely with Coach Mats (Alexander Matsinye) and Coach Hannah Jacques to support our girls and continue to build a positive culture. Coach Loftus holds an MBA from Loyola and a MA in Teaching from Johns Hopkins University.