Upcoming Schedule
There is currently no schedule available.
Coaching Staff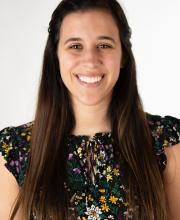 BIO
John Carroll is pleased to announce Ms. Jessica Marx has been named Varsity Swimming head coach. Marx says, "I am excited about the opportunity to lead the Patriots swimming program. I look forward to continuing a tradition of success and a positive team environment here at John Carroll."
Over the last three years, Marx served as a special education teacher and assistant coach with the Aberdeen High School Varsity Swim team. During that same time, she has also served as head coach for the Emmorton Barracudas in the Harford County Swim League.  A strong swimmer in her own right, Marx competed in the Harford County Swim League for 10 years as a member of the Joppatowne TigerSharks. In high school, she was named a Maryland State Qualifier all four years at Joppatowne. Marx also excelled on the lacrosse field, playing three seasons of NCAA Division III lacrosse with Notre Dame of Maryland University. Marx graduated from NDMU in 2016 with a bachelor's degree in English and again in 2017 with a master's degree in Education. A Harford County native, Marx currently resides in Abingdon.